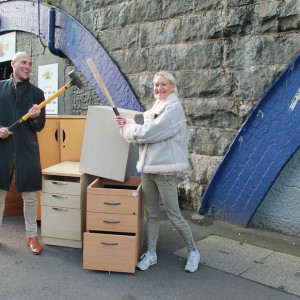 And finally… Rage room collab to eliminate office furniture waste
Two companies in the North East are working together to stimulate the circular economy and divert waste from landfill.
Greenwell Equipment of Aberdeen is working with the recently launched Wreck It Room to clean up scrapped or damaged used office furniture that has been in storage for years rather than going to landfill.
Greenwell, which specializes in quality new and used office furniture, as well as cubicles, containers and shelving, has been operating in the city for 25 years. Over the years, the company has accumulated tons of unusable furniture in the hope of finding a positive solution rather than getting rid of it.
---
---
Now the team is liaising with a new business that has been launched in Palmerston Road town as an avenue for damaged goods. Wreck-It Room was launched after the lockdown to combat stress, giving people the chance to book and get rid of pent-up frustrations by breaking things up.
The company is focused on limiting the amount of waste sent to landfills and the team is working closely with a number of recycling companies to ensure that leftover pieces, such as wood, metal, glass, ceramics and plastics, have a second life.
Julie Wood, Director of Greenwell Equipment, said: "Landfilling is an animal I hate and that's why we ended up with containers worth damaged furniture. I'm also very passionate about the circular economy, so working with the Wreck-It Room team is a great option.
"Our philosophy as a company is to be as environmentally conscious as possible and reselling quality used furniture is an important part of supporting the circular economy. We have over ten 20ft containers full of completely unusable items, so collaborating with another local company to divert the waste to landfills knowing that the items will be recycled later is a win-win solution.
---
---
Rage Rooms are popular in America and Wreck-It Room is currently the only similar business north of Glasgow.
Co-owner Craig Finnie said: "We keep landfilling as low as possible and our goal as a company is to achieve 90% recycling for leftover session items. We use damaged items during house clearing and office moves, and work with customs clearance companies to find items that would otherwise go to landfill.
"Creating a good working relationship with Greenwell has been great and it is essential for us to continue to collaborate with many local businesses in the city to find items that can be used during our sessions and then recycled afterwards. "
Greenwell Equipment, which specializes in cabins, containers, warehouse shelving and office furniture, started selling used furniture in 1996 and has since grown into a multi-million pound business. who has worked on some of the UK's biggest infrastructure projects.
---
---
Led by the sibling team, Mark Turnbull and Julie Wood, alongside their father Richy, Greenwell, who won the Family Business Award at the last Northern Star Business Awards, has delivered contracts for a number of projects large-scale, including the Queensferry Crossing, the AWPR, the new development of the Port of Aberdeen, the upgrade of the A9 and the development of the HS2 Rail in England.