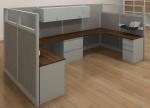 New / Used Office Furniture Ergonomic Interior Design Service Launched in Washington DC
With the global pandemic forcing many businesses to radically rethink workspace layout, Sterling, Va. (703-348-5697) based furniture dealer and designer announces updated products and services for customers of Northern Virginia and the Washington, DC area.
Sterling, United States – December 24, 2021 –
Sumner Furniture & Design's latest launch features an expanded inventory of used furniture alongside its popular bespoke design services. The company specializes in the reconditioning of existing pieces and the reinvention of chairs, tables, desks and general interior design of premises to give new life to old furniture and help customers comply with social distancing rules. At work.
More details can be found at https://www.sumnerfurniture.com
The ad details a range of benefits for customers who may not have the budget for a complete replacement of their existing furniture. The Sumner team brings expertise in maximizing the life cycle of well-used office devices without compromising style or design flair.
Ergonomic chairs have become an essential addition to most modern office spaces, but this level of support and comfort can be expensive. With its extensive line of pre-owned chairs and state-of-the-art reconditioning solutions, Sumner ensures that customers can continue to put the health and well-being of their employees first without the high price tag.
For those looking for new pieces, the company offers a wide range of office furniture from top brands. Customers also have the option of renting desks and chairs rather than purchasing them directly.
Customers can benefit from Sumner's planning and design services. The project management team offers many years of combined experience in custom interiors and furniture. In addition to detailed technical drawings rendered via AutoCAD technology, customers can access a comprehensive library of fabrics and finishes. The company also ensures the delivery and installation of all its commissions.
About Sumner Furniture & Design
Led by Founder and CEO Jeff Thorner, the company has been in existence since 2013. In addition to design and planning solutions, Sumner Furniture & Design also offers storage, decommissioning, relocation and installation solutions.
A spokesperson said, "Whether you are starting a small business, expanding an existing one, managing large facilities, or creating business environments for your customers, Sumner Furniture will help you develop product strategies that make the most of your space and get the most from your money. farthest."
With its latest service updates and expanded inventory of office furniture, Sumner Furniture affirms its reputation as the go-to work solution provider in Washington, DC and Northern Virginia.
For more information, please visit https://www.sumnerfurniture.com
Contact information:
Name: Jeff Thorner
E-mail: Send an email
Organization: Sumner Furniture & Design
Address: 22960 Shaw Road Suite 601, Sterling, Virginia 20166, USA
Phone: + 1-703-728-5339
Website: http://www.sumnerfurniture.com
Version number: 89057827
COMTEX_399528335 / 2773 / 2021-12-24T04: 40: 12