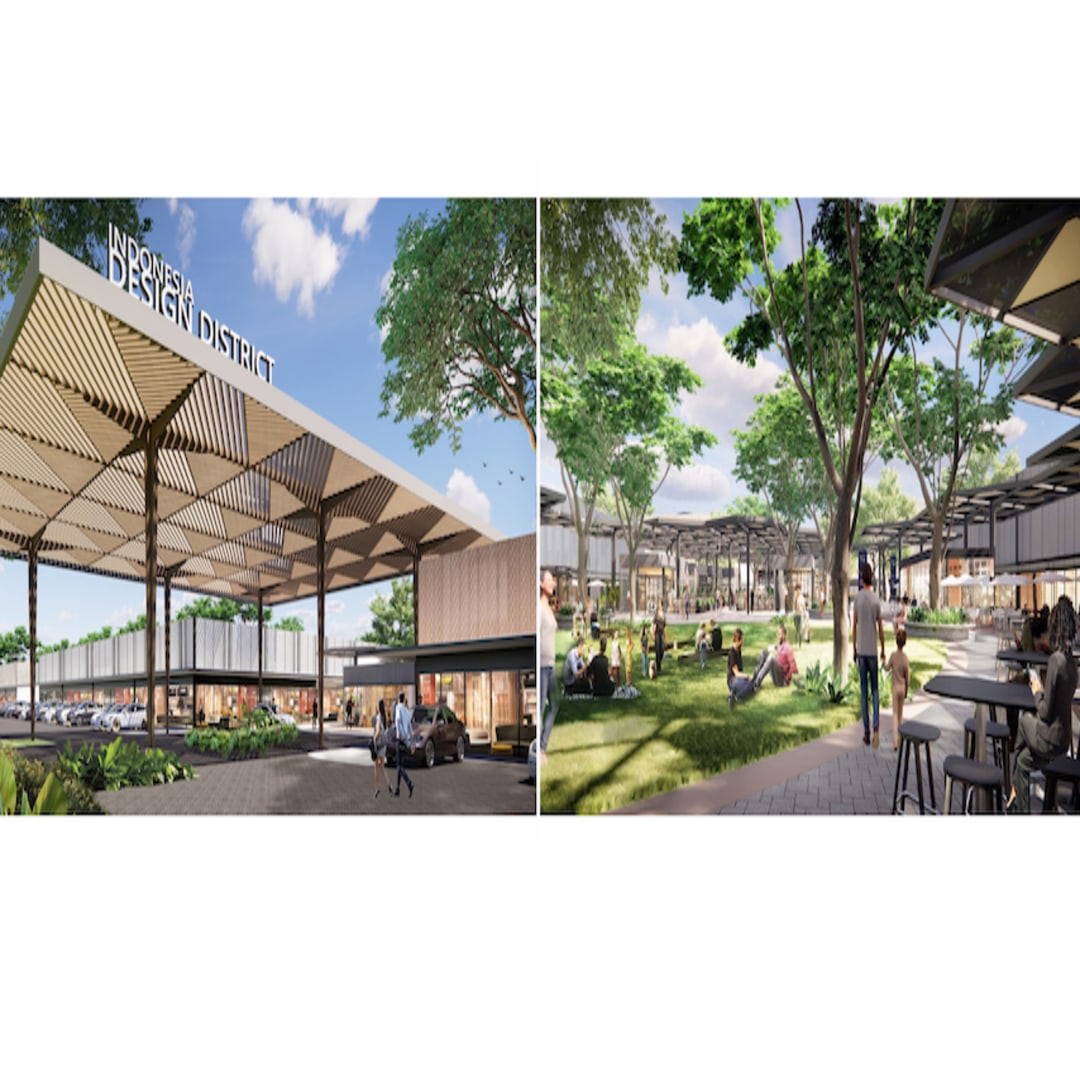 PIK2 opens new doors to the design and furniture industries
Pantai Indah Kapuk (PIK) 2 in the northern part of Jakarta will be home to the Indonesia Design District (IDD), the largest open-air shopping center bringing together leading furniture and interior brands. Developed by the leading real estate developer in Indonesia, Agung Sedayu Group – IDD is the first of its kind in the country. Internationally renowned architects DP are also invited to merge 10 attractions into one place.
DP Architects' FIRST design spirit and commitment to designing architectural excellence that enriches the human mind and experience in today's environment means pushing architectural designs beyond standard aesthetics and functionality to encompass the principles of health and wellness. These values ​​are in line with the developer's vision for IDD by providing a state-of-the-art lifestyle center that enriches the life of modern society with an innovative concept.
The first of its kind in the archipelago, IDD will be home to renowned names in design and furniture with stunning architecture and store designs endlessly seeking leisure activities and welcoming experiences with every arrival. IDD is now open for booking and limited to 200 tenants from various leading brands to be part of a new lifestyle concept in the country.
The project is expected to be the most complete lifestyle center with an astonishing multitude of retail, event and exhibition spaces; art gallery and square; academy; Central place; F&B Pavilion; green lawn and playground. Located on 10 hectares of land, IDD will offer a new concept and a thoughtful design for design enthusiasts and the general public.
Designed as a shopping center, each store will be naturally flooded with sunshine and good light exposure with a high ceiling. Bright and vibrant colors throughout the front of the property will bring the creative vibe to life. Trees will line the shopping streets with a lush landscape and shaded outdoor spaces to provide biophilic design elements.
Located in a tropical country, IDD also adopts a passive cooling system as a climate-friendly design approach. Thus, installing canopies and shade houses, planting large rain trees, sidewalks designed to collect rainwater with trees and planters around the F&B areas are necessary to provide comfort in the outdoor space and a good air quality.
Indonesia Design District is the promise of standard and quality with distinguished design being the first outdoor shopping mall concept in Indonesia, meeting the needs of modern consumers to enjoy a natural ambience with contemporary amenities. Agung Sedayu Group's One-Stop Lifestyle Shopping Mall is a one-stop-shop of mixed tenants in an integrated area, making shopping both personal and useful. Thus giving visitors a sense of belonging and well-being with thoughtful details and privileged access to the mall for great convenience and hassle-free travel.
"Indonesia Design District in PIK2 is slated to open at the end of 2022. By making such a gigantic project for Indonesia's largest and most comprehensive furniture center, you can imagine that this is a mega concept. The development of a one-stop shop for furniture and interior in an area of ​​around 10 hectares should be supported by well-known local and international brands ", said Natalia Kusumo, CEO of Agung Sedayu Group for Mall Hotel Division 2 .
According to Natalia, the Indonesia Design District in PIK2 has three main advantages. The first is the access, through which the Lifestyle Center will be at the most upscale location of PIK2 and will be accessible from two main roads, namely Jl. Rasuna Said and Jl. Thamrin, with each road built. up to 50 meters wide. Additionally, PIK2 is just seven minutes from Soekarno Hatta International Airport, convenient for showrooms targeting export, import and local markets.
IDD's mega concept is aligned with the resilience and growth of the Indonesian furniture industry, even in times of pandemic. As a mega-city, Jakarta has long awaited such a comprehensive lifestyle welcome center as other major cities around the world.
The second advantage of IDD is that it offers an outdoor shopping center concept, where each tenant or brand will be alone – having more importance, as visitors wander from point of sale to point of sale to through the greenery and the outdoor square for various activities. While it may be semi-alfresco, visitors will be sheltered from the heat and rain with shaded awnings as well as retail spaces. The first and only one in Indonesia to date, IDD will deliver a different experience in a more relaxed atmosphere where creatives meet, connect and collaborate.
The third benefit of this unique lifestyle center is its diverse yet comprehensive mixed tenant, convenient for everyone from all walks of life. The tenants will be grouped into several zones; The Home and Living area will bring together a diverse selection of sofas, chairs, cupboards, lamps, electronics and other living room equipment. The other will include kitchen and dining room necessities such as tables and chairs, kitchen appliances and accessories. The Bedroom area is where visitors will find options for walk-in closets, wardrobes, mattresses, and other bedroom needs. Finally, there is also a specific area for the bathroom, children's furniture, office supplies, outdoor furniture and building materials like parquet, marble, granite, wallpaper, etc.
IDD is now open for booking for potential tenants as of today, for more information visit the website or contact the IDD representative via WhatsApp at this link.