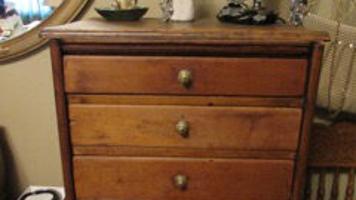 Steele: Furniture needs love too | Chroniclers
The owners of CR Rustic Antique Mall (and many other dealers also work with wood furniture) have some nice ways to paint and design some furniture that may have a problem with the top or different woods on the drawers or maybe just wanting to give is a different look. Not only by painting the pieces, but also adding beautiful colorful patterns and stencils. They turn out to be magnificent and they are taken left and right. They barely sit for a week or two and they are out. And that's what we all love to see, of course. The kids in the store have a Facebook site at CR Rustic Antiques at 7 p.m. every Friday night. They did so many projects in the short 30 minute show and say it's just amazing. The creativity that these two bring during those 30 minutes online is so impressive. Please put it on your calendars. I know you will really appreciate it!
But back to the original wooden furniture which is complete and still beautiful with their original tinted color as well as shapes etc., it is always good to lightly strip if necessary and in some cases you may just be able to give the whole apply a good coat of stain then let dry then a coat or two of orange oil. Some people also like to stain and varnish. Again, it's everyone's decision and what they like to have in their home. No good, no bad, just preferences on styles and how they should be used in the future.
We have had some very nice furniture that has passed through the store in recent months. From secretaries to libraries, to sideboards and chests of drawers, sets of tables and chairs (with pressed back designs). The list is lengthened increasingly. Since I don't take much care of furniture anymore because I don't have the space at home or the ease to work on it, but I love my small items. Howard Oil products work wonderfully on all kinds of woods – oak, cherry, walnut, mahogany, pine, and more. shine like a coat of varnish, but the oil will soak up better in unvarnished wood, of course.