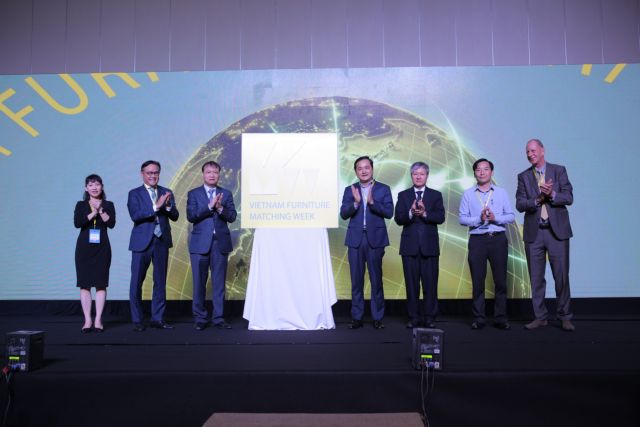 Vietnam Furniture Matching Week opens in HCM City
VIETNAM, April 15 –
The inauguration of Vietnam Furniture Matching Week 2022 in the city of Thủ Đức on April 13. —VNS Photo
HCM CITY — The second Việt Nam Furniture Matching Week started in Thủ Đức City of HCM City on April 13, and a series of online and offline activities were held until April 20 to gather Vietnamese manufacturers and foreign buyers.
Coming at a time when buyers around the world are looking to place orders for their year-end sales, the event has attracted a lot of attention, especially from sourcing agencies and representative offices of major brands such as Mitchell Gold + Bob Williams, Lidl & Kaufland Asia, Target Corporation, HOME DEPOT, Williams Sonoma Vietnam LLC, OBI Group sourcing from Hong Kong Limited in Việt Nam, TJX Việt Nam and Four Hands.
There was an on-site exhibition on April 13-14 with over 30 major companies showcasing their products.
In addition, more than 100 producers present their latest products and creations during the online exhibition at www.hopefairs.com with 360 degree showrooms.
Compared to last year, the HOPE platform has significantly improved in terms of technology and content and added advanced connection tools to better meet the online B2B matchmaking needs of participants.
Organized by Ho Chi Minh City Wood Crafts and Industry Association (HAWA), Việt Nam Trade Promotion Agency and Ho City Industry and Commerce Department Chi Minh City, the event also includes "coffee connection" for companies of specific segments such as indoor, outdoor, sofa and kitchen cabinet to meet and online and offline seminars on raw materials , logistics trends, digital transformation, etc.
Products on display at the on-site exhibition as part of Vietnam Furniture Matching Week 2022, which kicked off in HCM City on April 13, and a series of online and offline activities are scheduled until April 20. —VNS Photo
Speaking at the opening ceremony, Vice Minister of Industry and Trade Đỗ Thắng Hải praised the woodworking industry for increasing its exports by 19.7% last year to $14.81 billion, despite the effects of the COVID-19 pandemic.
Also appreciating the initiative to hold online activities on the HOPE platform and all Việt Nam Furniture Matching Week events, he said, "This is an important activity to maintain the image of the Việt Nam's timber industry in the global market and helping businesses find customers as the pandemic still affects travel.
HAWA Chairman Nguyễn Quốc Khanh said this year's event attracted more than 450 wood and furniture companies, significantly more than last year's event.
"This is a positive signal indicating a recovery and dynamic activity in the timber industry.
"We believe that Việt Nam Furniture Matching Week 2022, in addition to being a business opportunity for companies, will also be an opportunity for us to meet good partners and trusted friends."
furniture design competition
During the opening, HAWA also launched the Hoa Mai 2022 furniture design competition.
Võ Quốc Lợi, a member of its board of directors, said: "We always encourage the participation of young designers who are passionate, ambitious and who are not afraid to challenge themselves.
"With the message of turning ideas into practical and commercial products, Hoa Mai is ready for the new season and more young people around the world."
Hoa Mai has seen a tremendous increase in the number of applicants over the years, and most importantly, all of their designs can be put into practice and have commercial applicability, he added. —VNS